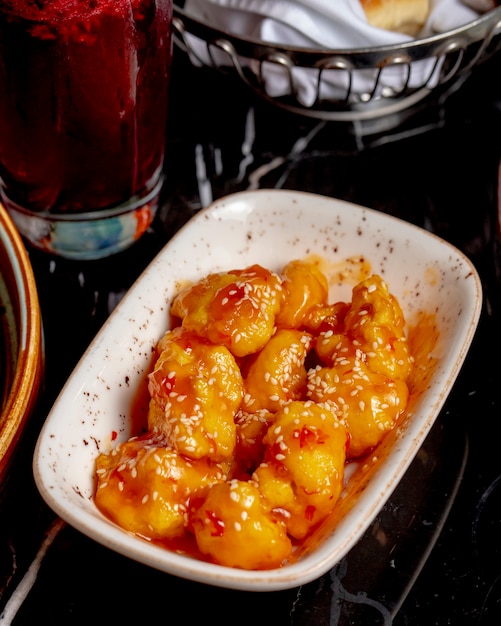 INGREDIENTS:
MARINADE:
1/2 tsp. salt
1 1/2 tsp. soy sauce
1 tbsp. cornstarch
1 tbsp. cold water
BATTER:
1/2 c. chicken coating mix
1/2 c. ice water
1 egg yolk
2 tbsp. vegetable oil
SWEET& SOUR SAUCE:
1/2 c. Kraft Sweet & Sour Sauce
1/4 c. chicken broth1/4 c. water
1/2 tsp. cornstarch
1 green pepper, cut into 1-inch pieces
1 med. carrot, sliced inch long
1/2 c. sliced water chestnuts
1 can chunk pineapple
DIRECTIONS:
Combine marinade ingredients in a small bowl. Add chicken, mix well. Let stand 30 min.
Combine batter ingredients in a medium bowl until just mixed. Do not stir to blend.
Combine sweet & sour sauce, chicken broth, water and cornstarch in a small bowl, set aside.
Preheat air fryer to 392°F for 3 minutes.
Coat each piece of chicken with batter and place into air fryer. Program to cook at 392°F for 10-20 minutes, checking for doneness. Repeat until all chicken is cooked.
Using a fry pan, place oil, heat to medium. Stir-fry green peppers, carrots and water chestnuts for 2 minutes. Add sweet & sour sauce mixture. Stir in pineapple. Stir-fry until sauce has thickened. Remove from heat.
Stir in chicken and serve immediately. Makes 4 servings.