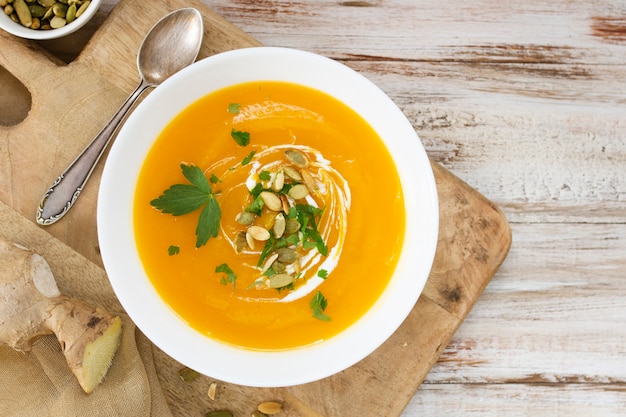 INGREDIENTS:
½ medium yellow onion, chopped
½ small fennel bulb, coarsely chopped
2 large carrots, chopped
1 tbsp fresh thyme leaves
1 tbsp balsamic vinegar
1 roasted red bell pepper, fresh or from a jar
¼ cup cooked cannellini beans, drained and rinsed
1 tbsp tomato paste
2 cups vegetable broth
Sea salt and freshly ground black pepper
DIRECTIONS:
Heat the olive oil in a large pot over medium heat. Add the onion and a pinch of salt and pepper and cook until translucent, about 5 minutes.
Add the garlic, fennel, carrots and thyme leaves. Stir and cook until the carrot edges begin to brown, about 10 minutes.
Add the balsamic vinegar, bell pepper, cannellini beans, tomato paste, vegetable broth, and another few pinches of salt. Simmer until the carrots are tender, 15 to 20 minutes.
Add the simmered soup to a high speed blender (you can work in batches if you need to) and puree until smooth. Taste and adjust the seasonings.
Serve in bowls with a drizzle of olive oil and the croutons on top.