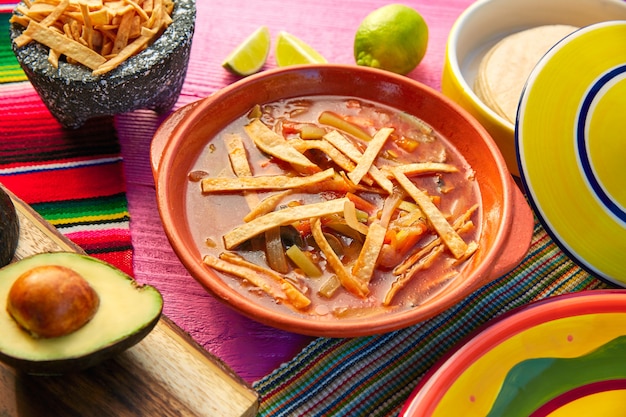 INGREDIENTS:
Salt and ground black pepper
1 ¼ pounds boneless skinless chicken breast halves
1 tablespoon canola oil
1 medium onion, chopped
2 cloves garlic, chopped
¼ cup fresh cilantro leaves, chopped
2 cans (14.5 ounces each) diced tomatoes, undrained
2 cans (10 ounces each) enchilada sauce
1 can (14.5 ounces) low-sodium chicken broth
1 can (about 15 ounces) black beans, undrained
1 package (10 ounces) frozen corn, thawed
1 tablespoon chili powder
1 tablespoon ground cumin
2 ripe avocados, pitted, peeled and diced
5 corn tortillas (6-inch), cut into 3x1/2-inch strips
DIRECTIONS:
Season chicken with salt and black pepper. Pour oil into pot. Set to STOVETOP MED and heat oil. Add chicken to pot. Cook uncovered 5 minutes or until chicken is lightly browned on both sides.
Stir onion, garlic, cilantro, tomatoes, enchilada sauce, broth, beans, corn, chili powder and cumin in pot. Set to SLOW COOK HIGH for 2 hours. Cover and cook until chicken is fork-tender.
Remove chicken to cutting board. Using 2 forks, shred chicken. Return chicken to pot and stir. Top soup with tortillas before serving.