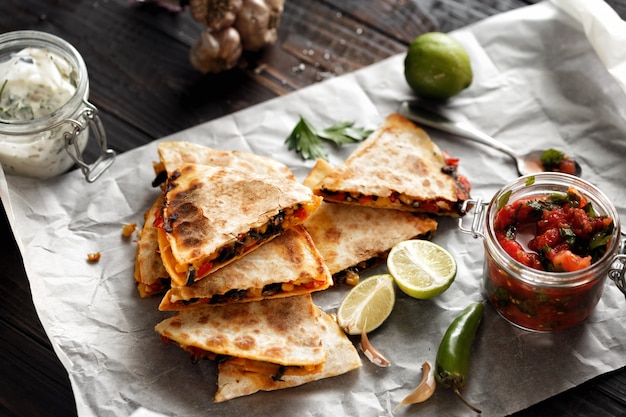 INGREDIENTS:
8 (10 inches) flour tortillas
2 cups shredded Cheddar cheese
16 (1 oz) slices deli-sliced ham (1 pound total)
½ cup crushed pineapple drained and squeezed dry
DIRECTIONS:
Plug the quesadilla maker into an electrical outlet and allow it to heat up The Red Power light will turn on.
Place 4 tortillas on a flat surface and sprinkle ¼ cup cheese over each. Top each with 4 slices of ham then sprinkle each with 2 tbsp crushed pineapple. Add another ¼ cup cheese over each of the 4 tortillas and top each with remaining tortillas.
Following the cooking instructions on page 4 of this manual, cook until tortillas are crisp and the cheese is melted about 2 to 3 minutes.
Slice each finished quesadilla into 4 wedges, and serve with pineapple, peach, mango, or your favorite flavor fruit salsa.